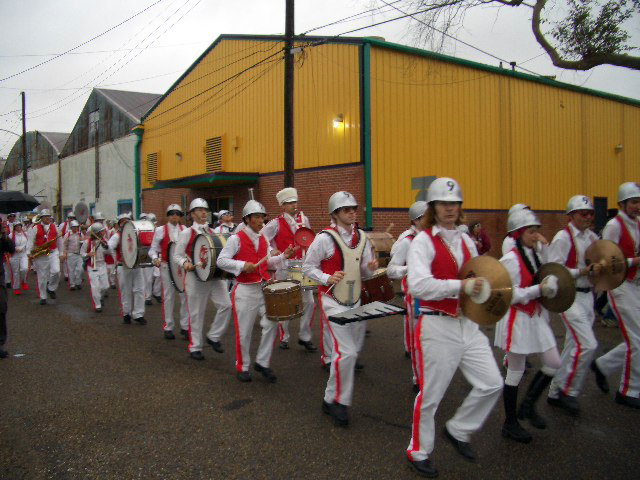 I knew I had to slide on down to Mardi Gras this year – and I had a decent excuse to book my flight when my band got offered a couple of gigs. I had no idea whether to expect a complete disaster area or relative normalcy. Either way, I wanted to pop down and show my support, check out the situation, see my friends, and witness the biggest, proudest, and most representative New Orleans holiday – on the most important of years. The very fact that Mardi Gras even happened was a huge triumph – and that it was an overwhelming success is the best proof that New Orleans is far from dead. What follows is a field report of underground music activities at Mardi Gras 2006.
DAY 1 - Saturday, February 25, 2006
After MC Trachiotomy picked me up from an early morning Jet Blue red-eye, we wound up running errands and rushing to get to the Ninth Ward parade on time. Trachio turned up EP and the 9 Yolk Mo's "Parle' Gras," an unofficial Mardi Gras anthem of sorts (listen to it here) – and a soundtrack of sorts for the weekend. While the section of the Ninth they would parade through wasn't so rough, our ride down there showed no shortage of devastation. What's worse is that it just kept going – block after block after block. You didn't have to go very far out of your way to find the hard reality we've all grown accustomed to via satellite – abandoned areas with leveled, sunken-in, and blown-out houses, rubble all over the street, high water stains, and the infamous "X" marks of the inspectors. On the other hand, some streets and neighborhoods provide an illusion of complete normalcy - with people going about their business and what on the surface appear to be completely intact healthy buildings. But we played one such street uptown and the house behind the one facing the street lay in total rubble. But I don't want to dealve too far into the state of New Orleans in general. You can get much more accurate, informed, fair, and unbiased opinions elsewhere, I'm here as always to talk about music– and in this case, about underground music at Mardi Gras – particularly that of the Ninth Ward's freaky musical subculture and it's extended community. And you won't find a larger, denser, or better collection of vital figures from the neighborhood's sonic subterrain than in the 9th Ward Marching Band.
The mighty 9th's sea of red, white, and silver flooded both rooms of Bacchanal, wall-to-wall. Dozens of band members and their friends were densely packed into the warm dry bar waiting a storm out. Though the major parades had cancelled due to the heavy rains that day, the 9th still intended to get it on. They were also marching in two major parades, Proteus and Muses, that weekend. But Saturday's mini-march was important because it was in their hood – the same one where the 9th paraded since their origins far outside of the Mardi Gras mainstream. Moreover, this was their neighborhood and, while they didn't pass the most devastated parts, the Ninth Ward could still use all of the parading it can get.
Through the rubble

Passing the Pearl

Documentarians
When the downpour reduced to a trickle, the bar emptied and
Quintron
had his band assembled in front within about ten minutes. He blew his whistle and they were off. As they passed the piles of junk in the yards and streets, lopsided houses, warehouses, bars, and dumpsters, neighborhood faces filled windows and bodies emerged from doorways. Some followed. As the group swelled, they passed Trachiotomy's house The Pearl, one of the centers of the community and the site of over a decade's worth of amazing parties, shows, and other events. It was totally bombed out. I have a couple of pictures if you wanna take a gander. Incidentally, everybody and their mama was photographing and filming the parade (and everything else involving the Ninth on every corner throughout the weekend). Kate Moss at her peak has never photographed as much as any one of the screwed up houses of the Ninth Ward during Mardi Gras.
The 9th Ward Marching Band celebrated their ten-year anniversary this year. They humbly debuted with a core of around a dozen folks - including notable musicians such as Quintron, Miss Pussycat, Trachiotomy, John Henry Kelly (Detonations), Lefty Parker (Interlopers, the Circle Bar), Jamie Kallel (Sex Hunter), and Matt Vis (Kid Calculator). The 9th has since inflated into a substantial sixty-five member unit divided into the following sections: drums, brass, glockenspiels, cymbals, rifle girls, cheerleaders, batons, flags, cowgirls, and a gong. The gong, not played frequently, is carried and banged with much ceremony. The band even has its own security – though I haven't yet decided whether it's to protect the band from the crowd or the crowd from the band. Whoever it was must've felt pretty secure this year as their safety was in the martial-arts-trained hands of two celebrity New Orleans expat-musicians, E.P. (Imagine "the" Band) and rapper Tiana Hux (Sweet Tea). The 9th employs a traditional military style of marching with some strange left-to-right freezes and other quirks thrown in for humor and style. The repertoire this weekend was a steady medley of the theme from Halloween, "Rock You Like a Hurricane," "Love is Like Oxygen," and "House of the Rising Sun."
| | | |
| --- | --- | --- |
| | | |
| Original members Matt Vis, Jamie Kallel, Trachiotomy, Quintron, and more.. | Entering Mimi's | Inside Mimi's |
The parade concluded as the band marched single-file into the friendly and familiar confines of Mimi's. The gun girls, cheerleaders, flag girls, cowgirls, and baton twirlers climbed on the bar. The instrumentalists stayed on the floor. Spectators clustered around windows on the street cheered the band on as they shook the building. Everyone lingered upstairs and downstairs at Mimi's and back-and-forth between there and Big Daddy's across the street long after the 9th had set down their instruments.
As it got later a whole bunch of us piled into cars and wound up at The Circle Bar for Viva l'American Death Ray Music, who panicked everyone into believing that they were playing a couple of hours earlier than they really were.
Legendary New Orleans garage rockers The Royal Pendletons played an epic opening set. I wish I could've shut my mouth long enough to go into the band room and pay attention for a few minutes…
All photos by NYNT unless noted...
© New York Night Train , 2006