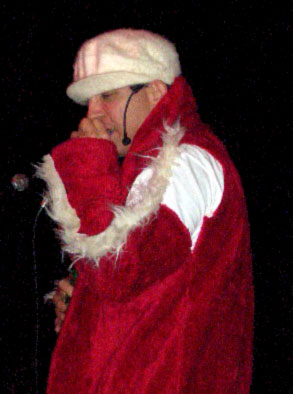 MC Trachiotomy at One Eyed Jacks
Day 2 - Sunday, February 26, 2006

Viva l'Amemerican Death Ray Music
at the Circle Bar.

Nick rocks his hat off.

Trachiotomy and El Tonios with Mad Happy and E.P.
The bar filled way beyond capacity long before
Viva l'American Death Ray
Music
went on. A few minutes after they took the stage the entire room was in motion - audience pushing up against band - sweating all over each other – the mic stand swaying from side to side. Everybody continued to endure the claustrophobia for the duration because this was the first time this New Orleans favorite (though from Memphis) had performed since Katrina. For anyone who hasn't witnessed the Death Ray for a while, it's becoming difficult to describe, Nick still sings with that sort of Lou Reed-phrasing, but is moving a bit into Mark E. Smith territory in the new numbers. The band's initial departure from their garage rock pasts into lo-fi glam has since entered dub and post-punky territory – but without losing their very Southern raw power sensibility. After a set that was nothing-short-of-amazing, they mustered up the energy for an encore before cutting the hungry crowd off. They then proceeded to tear everything down among puddles of sweat.
Of course the night was nowhere near over – it being both New Orleans and Mardi Gras and the excitement building as Fat Tuesday approached. MC Trachiotomy and El Tonios were scheduled to perform at 3AM at the One Eyed Jacks in the French Quarter. Though they probably didn't play until well after four or five, plenty of folks showed up to party with them. Trachio has strayed far beyond his tracheotomy voice and towards uncharted weird soul territory - still laboring to tweak the hip-hop until it's standing on its head. El Tonios is an excellent guitarist and triggers all kinds of samples, beats, and manipulations live. They wound up with a whole cast on the stage - which included Ninth Ward legend E.P. and both members of Pensacola's Mad Happy. What I do remember about their set was that it oozed the freakiest of funk.
When we stepped out into the morning, light flooded the doorway. The cast, crew, and a few more hangers on dropped Quintron off and had breakfast at a diner. As our day gasped its last breaths, we found ourselves in the company of a bunch of folks who were filling up on their way to work.
A couple of hours after breakfast a fiesta was getting going at casa del Trachiotomy and Anastasia. They had mimosas, bloody marys, beer, wine, and Trachio's famous drumstick po-boy (which consists of a barbecued chicken leg inside of a small bun). The stage outside was filled with all kinds of musicians for hours. Since it was on Magazine and the parades weren't far, a number of parade-goers ventured to the back yard to check out the music. My oldest friend in the world (we go back to middle school), who lives a few blocks away, showed up with some friends. Busy catching up and meeting folks, I honestly can't remember the names of all of the fine bands that performed – with the lone exception of Mad Happy, who I'd witnessed before in New York.

My band Twilight (as we were known then – I think it was First Twilight Congress when we played last week… I know, I know, tell us if you think of something better) played - at twilight of course - with the ruins of a house behind us. We took a picture in front of the ruins but it came out blurry – which is probably for the best. I thought we kind of sucked but I've been around long enough to know that sucking is a good omen the night before a big show. I'm glad we got it out of our system.
After rapping up our set we tore down the stage (literally), the equipment, and the P.A. and gradually made our way through the Mardi Gras bumper to bumper and into the belly of the beast – The Circle Bar (which must've taken more than an hour). Trachiotomy and El Tonios were once again to go at it with Mad Happy and a few others. This is where the new fragility of my thirties was particularly pronounced. Two nights of no sleep and I was already feeling sickly and dead to the world. Some rockabilly band was playing and, after about an hour of that, and no possibility of Mad Happy or Trachiotomy anywhere in the near future, I got the key and guilted my friend Dana into lifting the drummer from Twilight, Jay, his girlfriend, Calixte, and me to the house where, in the kitchen, I would find my first decent slumber since Thursday.
Go Back to NYNT Mardi Gras Feb 25 | Contine to NYNT Mardi Gras Feb 27
View all NYNT Mardi Gras images | Go to NYNT Mardi Gras home
All photos by NYNT unless noted...
© New York Night Train , 2006