SXSW Diary - Saturdaay, March 18
Photos are back again – only because my dear friend Deb Pastor captured most of the main events of day with her camera. The pictures that follow are all her's... clickable as well...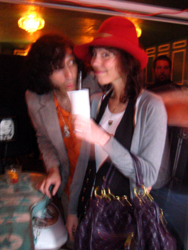 We woke up at 8AM on Saturday morning to help my dad with all of the barbecue stuff. My girlfriend and I, both vegetarians (a vegan in her case), sat at the table as my dad taught us how to shred the brisket with forks. Since he smoked it all night it was so tender it fell apart with the touch of a fork. Nonetheless, there were four huge briskets and it took some time to break 'em up. After that we loaded up the car and headed towards the venue of the day party - The Peacock. The proprietor, Jason, was running late and hadn't shown up. We split to get some more equipment from Jeff from American Death Ray's apartment. We came back and still no sign of the Jason – which was a bit worrisome as the doors were supposed to open at noon and we 'd planned on getting there at 11:00 to set up the P.A. and the backline. There were eleven bands scheduled to start at 12:30 and move along a tight schedule all day. He finally popped in just after noon and then we were in business – with old friends from Death Ray, and the first band, The Transgressors, lending a hand with the setup. It wound up running only a few minutes late.
The Peacock, for those who don't know it, may be the most beautiful bar in Austin. Designed Joel Mozersky, it's all white and teal with chandeliers, metal peacocks, and white furniture. While this classy establishment of course is not the typical venue for an underground music event – Jason Schell has varied taste in music and is fairly adventurous when it comes to this kind of thing.
The Transgressors provided a thunderous opening. As most of the folks weren't there yet, and the volume hadn't been totally worked out, they were a bit loud – but still totally shining in the situation. I wish I wasn't still co-coordinating stuff when they played – but that was the strongest leitmotif of my day. For those who haven't yet had the pleasure, The Transgressors do a really amazing postmodern take on western music. I can still hear Jeff's reverby guitar licks in my head. I wish we had a photo.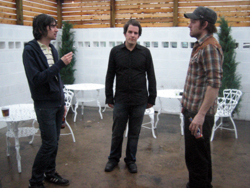 Fresh Kills then set up and were ready to play five minutes after their scheduled time when Menaguar's manager said that it was too late, they'd never get off the stage on time to get a member to another gig, and that they were leaving. I had seen members of the band walk in and look around and walk out a few minutes earlier. She tried to be polite and give an excuse, but c'mon – five minutes late? I could tell that the lack of people, the rough sound, and the general chaos had put her off a bit and that the band checked it out and asked whether they really had to go through with it. Of course they didn't. The cancellation proved to be a blessing because I told Fresh Kills that they could relax for a few minutes before they had to go on – so we had a little time to calm down and get everything on track. My dad popped in and said hi, shook everyone's hand, and said that he'd love to stay but he had to get in the jacuzzi – what a cool thing to say - I wished I could have ducked out of the monster I created and do the same. We were back on schedule and Fresh Kills took the stage. By this point they looked about as tired and hungry and hungover as A Fir-Ju Well a couple of days before. And like Ted Leo the night before, singer Zach Lipez had lost his voice. And like The Transgressors a few minutes before, they were too loud. But like themselves on Wednesday, they rocked their cold dark hearts out.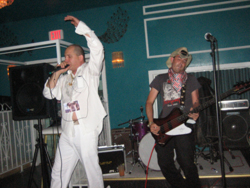 Next my good friend MC Trachiotomy and his pal Lefty Parker, both from New Orleans, Louisiana took the stage. If you want to read the stories of these two, both of whom refused to evacuate during, Katrina, go here. The room began to fill in a bit at this point and Trach and Lefty refused to disappoint. They did a really bizarre set that, for lack of anything better to call it, is hip-hop – but they were tapping on the edges of the already boundary-pushing genre. Pure flava, charisma, and weirdness. Again I was running around trying to make things happen and missed a bunch as the leader of the next band, Tomorrow's Friend hadn't yet showed - so I let them stretch it. But I do know that they closed with the hit, "Everybody Knows What I Know (Unless You Don't)."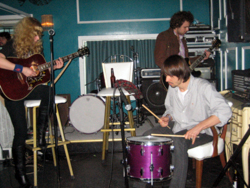 Just as I was in the middle of telling Damon McMahon, who was filling in on guitar for Tomorrow's Friend, that I was going to have no choice but to cut the band as it was going too late, we saw Allessandra a few blocks away - running down the street with a guitar on her back. She got an E for effort and I'm a softy, so I took the chance of running late to let them at least get a few in. Her improvised band actually pulled it off and, dare I say, I think it was the best I've ever seen them. The stripped down approach really seems to work for her a bit better than the chaos.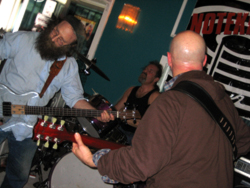 After that I got to witness something I'd been waiting for all week, The Notekillers. They're are one of those rare bands that were so ahead of their time that, now that they've reunited, twenty-five years after their breakup, they're still fresh as a daisy. Between 1977 and 1981, the Philly trio was one of the first to fuse punk and jazz ideas – the resulting instrumentals were absolutely electrifying. Thurston Moore talked about their influence on early Sonic Youth in a few interviews and wound up putting his money where his mouth is - putting out their album last year on his Ecstatic Peace imprint (that's the kinda stuff ya gotta luv about that man). While the daylight was busy casting soft shadow patterns across the room, everyone within was completely transfixed, transported, and transformed by the soundtracks unleashed by this uncommonly powerful, original, and captivating trio.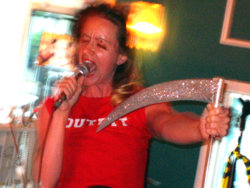 Next, my old school chum MC Sweet Tea, better known in Austin as Tiana Hux did a brief audience-winning set leading up to her friends Pong. In Austin Tiana was a local underground drummer, actress (she has a really choice role in Linklater's Waking Life), performance artist, film-maker, and god knows what else – but no one in town knew her as the fluid and witty rapper she'd reinvented herself as since moving to New Orleans a few years ago. She appeared hooded as a sort of FEMA grim reaper and kept getting more comfortable with each new song. By the time she ran off at the end, you could hear folks chuckling and quoting her lyrics.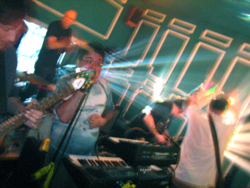 When Pong hit the stage, The Peacock was jam-packed inside and out. Though they played sans-costume and with only minimal lights, they took complete control of the crowd, transforming the tight assembly of bodies into a futuristic dance party worthy of a Mecco album cover. These guys were all some of the finest and most colorful underground musicians when I was an Austinite – Shane in ST-37, Jason in Pocket Fish'R'men, and Lyman, Larry, and Gary in my favorite local band for many years, the strange and beautiful Ed Hall. Their new thing is a sort of new wave future funk that must be seen live to be fully grasped – a thing of both surreal ambiguity, positive energy, and playful humor. No one wanted them to stop, except…
Now for a little behind the scenes logistical talk: Though we caught up on time when Menaguar cancelled, Tomorrow's Friends' tardiness and Pong going over the time limit left an unsubstantial amount of time for the final three bands. The reason that it had to move fast was that the backline had to be at the Velvet Spade for the official New York Night Train showcase by 7PM or the bands'd be cancelled. Plus, all of the showcasing bands that night from 8PM on were using the bass amp. The only answer was for the remaining bands to shorten their sets – which was a shame because Hopewell, GoGoGo Air heart, and Kid Congo and the Pink Monkey Birds are all headliners in their own right and deserving of a little more time. Nonetheless, Hopewell and GoGoGo are total professionals and sweethearts and both volunteered to cut their sets down without me even asking – so that Kid would also get a chance to do his thing before the end. It was a double-display of selfless kindness that's become all-too-uncommon in recent years, but really drew to me to the indie rock family in the first place – and it would've brought a tear to my eye if I wasn't such a damned macho.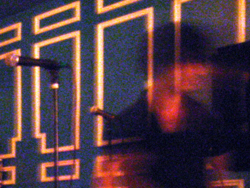 Hopewell got ready quickly within the chaos and, after a running start, began having problems with the P.A. Apparently it had some sort of built in limiter that'd cut out whenever the vocals'd go past a certain volume level. The harmonies are really important to their layered sound and I felt really sorry for them – OK – I felt guilty. Nonetheless, it came off well and they're too good a band to look bad because of a few P.A. problems. Hopewell has achieved the feat of retaining the hallmarks of great psychedelic music without any of the meandering – there's never a wasted second in their dynamic, solid, and intelligent compositions – and that very deliberateness is never at the expense of their soulfulness and poetry. Great guys and great music.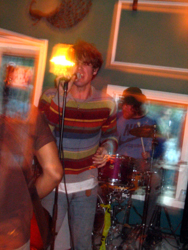 I love being a curator instead of a critic 'cause I'm aloud to love as much stuff as I wanna – and GoGoGo Airheart is certainly more than worthy. Though they've been around forever it's this year that they've become one of my favorite bands going. By this show I was hot on the heels of witnessing both a beautifully disastrous Monday night set at New York's Mercury Lounge and a brilliantly defiant one at Room 710 in Austin. In the small space provided they played four or five of my favorite parts of there set – including a dub song on which they were joined by their Gold Standard Labs labelmate, LA offbeat rap king Subtitle. I couldn't believe how they were able to start burning so quickly and extinguish it so abruptly while everyone feeling full and satisfied.
This led in to New York Night Train Recordings' own Kid Congo and the Pink Monkey Birds. As I mentioned in this diary's intro, The Monkey Birds' rhythm section couldn't make it in the last minute. David Lloyd from my band, Cause for Applause, was filling in on bass, which he'd done only once about a year ago.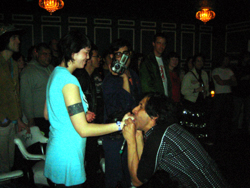 Pong's Lyman Hardy, who'd never seen the band or met any of the members before today, filled in on drums. Whle Kid and Jack were visibly exhausted from band anxiety, the straight drive from New York the night before, and god knows what else, they took the stage like total pro's. Lyman kicked some amazing beats and totally stayed with it. Lloyd was funky, forceful and flawless. Martin was twangy, daring, and bizarre as always. But Kid Congo really took it to the next level, grabbing the audience with his trademark guitar style, baritone vocals, and general charm - refusing to let 'em out of his grip until I had to steal the backline out from under him.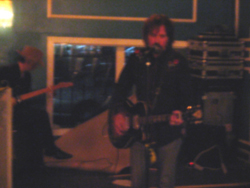 As I loaded up, Jack Martin and New York rock legend Jerry Teel (ex-Honeymoon Killers, Knoxville Girls, Boss Hog, etc.), who just relocated to Austin via New Orleans after Katrina, were setting up to do their thing. By the time I threw everything in car, loaded into the Velvet Spade, and came back for the second trip, the two were saying goodnight. I miss Jerry – particularly his relaxed vocal delivery, his recording studio, and his bashful grin – I hope I get to check all three of those out sometime in the near future.
Go forward to the March 18 Evening SXSW Diary
Step back to New York Night Train's SXSW Home
© New York Night Train , 2006