Scott Walker
The Drift
Beggars Group 2006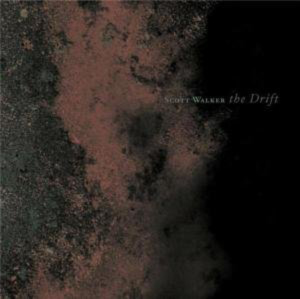 I couldn't imagine the new Scott Walker being anything less than excellent and was thrilled to learn it was much more. If you liked his last official album, 1996's Tilt (Pola X was a soundtrack), which was even more intense than the one before, 1984's Climate of Hunter, The Drift is gonna knock you out. If you don't already dig Scott Walker, it'll do nothing to convince you of his merits.
Before Walker's increasingly experimental work since the 1980s, his fascinating career went from the little-known late 1950s teen rocker phase, to the sophisticated pop of The Walker Brothers, to his classic art song late 1960s phase, to wanderings in the 1970s that included a couple of forays into country and a Walker Brothers reunion. While his output has been sparse in recent decades, his work has been unparalleled by others of his generation. I wish that other favorites such as Lou Reed or Leonard Cohen or even Dylan could make a new album that I relate to and respect as much as I do The Drift. There are certainly exceptions like Brian Wilson, but Smile was written almost forty years ago and I've yet to hear any new material of his that comes close. The only name I can think of off the top of my head is Tom Waits, who's a bit younger and still hasn't produced anything of late that comes close to this record I'm preparing to tell you about.
The Drift is an avant garde album in the classic modernist sense – belonging more to concert halls, opera houses, and performance spaces than pop venues. Walker hasn't done his baroque renderings of Jacques Brel for a long time and he ain't gonna start here. These are long involved pieces that waver from the most bare minimalism to the most elaborate orchestrations. The more spatial parts tend to be the most experimental and ambient – found sounds, found percussion, tape recorders rewinding, synths pulsating, vocal noises, and unorthodox instrumentation. Sometimes the voice is accompanied by nothing or merely a sound. The dense parts tend to possess a sort of post-Wagnerian atonalism and include almost industrial rhythmic devices. Though it reminds me of modernist opera, there's plenty to remind people that this is a 21st Century record – from the beats, synths, effect-laden electric guitars, and contemporary editing devices. Walker's voice retains it's unmistakable baritone quality and his masterful phrasing is as unusual and breathtaking as ever. Finally this thing is a true audiophile album and sounds uncommonly gargantuan.
Though Walker is often perceived as a great interpreter, many forget that a number of his finest numbers, particularly the ones that came after Scott 3, were penned by the singer himself – both words and music. The lyrical and sonic themes of The Drift are a dark commentary on contemporary culture – both internal and external. While Walker discusses everything from Cossacks to Serbs, from Milosevic to Mussolini, his writing is highly allegorical – never preachy and rarely obvious. The best example is "Jesse," in which he uses Elvis and his Elvis' stillborn brother to as a parable for the World Trade Center's twin towers. The longest epic, the nearly thirteen-minute "Clara," is all about the growing international climate of fascism. News bites, the sound of bacon frying, inner thoughts, and other random scraps are collected and combined to portray Scott Walker's personal musical body politic. This could very well be sci-fi or a long and elaborate nightmare, except for, knowing what we know as citizens of this time, it's yet another contemporary memoir.
In its claustrophobia, paranoia, beauty, and supreme power, the apocalypse Scott Walker has titled "The Drift" is unlike anything I've ever come across. Who the heck is making art this ambitious, adventurous, and vital these days? As he repeats "I'm the only one left alive" over and over, I begin to believe him. More evidence that there is such thing as an old master in the highy disposable contemporary pop/rock world.
Scott Walker MEDIA:
Beggars Group The Drift site with audio and video (doesn't work so well in Firefox - try Explorer)
Here's a recent ten-minute interview:
© New York Night Train , 2006