UPDATE: Sunday, November 6, 2005
OBITUARY
Mana "China" Nishiura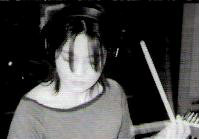 With great sadness I inform you that prolific Japanese drummer Mana Nishiura, best known simply as "China," passed away Friday, November 4 in a tragic automobile accident. She was with Tokyo psych-rock outfit DMBQ in route from a gig at Baltimore's Talking Head to a Todd P show in Brooklyn.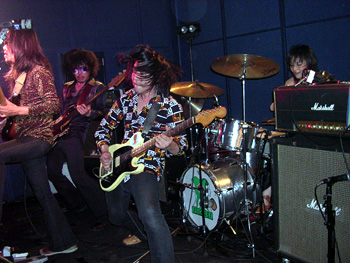 At approximately 12:51 PM on the I-95 in south New Jersey, the band's van hit a Ford Econoline, tumbling several times into a clearing on the side of the turnpike. The rest of the group are currently hospitalized in Delaware and New Jersey. Read more here.
I witnessed China playing with DMBQ at a Polish disco this spring. Keeping with the larger-than-life arena rock persona of the band, she played with no shortage of flare - striking an encyclopedia-full of rock poses and pounding her drums like a god of thunder. It was impossible to miss her skills, passion, and energy.
While DMBQ was China's most recent project, she had been an important player in both the Kyoto and Tokyo music scenes. She made a name for herself in the mid-to-late 1990s with Kyoto experimental rock acts such as Music Start Against Young Assault and Jesus Fever.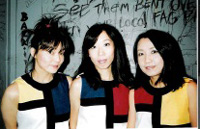 Though her live debut with legendary pop trio Shonen Knife was in May 2001, China began began appearing on their recordings as early as 2000. During this period she also became a member of Yamamoto Seiichi's of Boredoms' moody folk-rock project Rashinban - playing on the albums Hajimari (2002), Aenai Hito (2003), Fukuin (2003), and Irumi (2004). She joined DMBQ last year, most recently appearing on their The Essential Sounds from the Far East (2005). She also played with Teem, Cel, Rovo, Partie, and others.
She will be missed.
---
Please donate to help pay the medical and travel expenses for the surviving members of DMBQ and their tour manager Michelle Panache. Send PayPal donations to:
dmbqpanache@lovepumpunited.com
You can find China's personal web site here.
You can find NYNT's Mana "China" Nishiura discography here.
DMBQ's web site is here.
The news report about the accident from the Gloucester County Times is here.
Brooklyn promoter Todd P will be putting on benefits for the band's medical expenses. His web site is here.
You can also read a bit more about DMBQ's accident on NYNT here.

© New York Night Train , 2005