UPDATE: Sunday, November 6, 2005
DMBQ's Fatal Van Accident
With both shock and sadness as I inform you that Tokyo psych-rock outfit DMBQ, along with their tour manager Michell Panache, were involved in a fatal automobile accident at approximately 12:51 PM on Friday, November 4. On I-95 N in south New Jersey, in route from a gig at Baltimore's Talking Head to a Todd P show in Brooklyn, their van hit a Ford Econoline - tumbling several times into a clearing on the side of the turnpike. Drummer Mana "China" Nishiura did not survive the wreck. The rest of the group are in varying conditions and currently hospitalized in Delaware and New Jersey.
I'm in a state of utter disbelief. You rarely hear of incidents like this . This has been one of my biggest fears for over a decade - not as much involving my own death, but, driving through a weary night, how it would only take a second for the entire band to be killed - a wrong turn of the wheel, a moment of slumber, something in the way,... something totally beyond the driver's control. I've imagined it again and again and again. It's the worst thing that could possibly happen - but it almost never happens.
I'm always amazed at how thousands of bands criss-cross the country, through rain and sleet and snow, in vehicles of various states of disrepair, at all times of the day and night, often in a rush or in various levels of consciousness, and yet, things like this almost never happen. But Friday it did happen - and in the middle of the day on the New Jersey Turnpike. And while I wish this fate on no one, I am particularly distressed that it happened to DMBQ.
I saw DMBQ at a Todd P show at Greenpoint's Club Exit earlier this year. Wild-haired and flamboyantly costumed, the Japanese rockers immediately won over Lightning Bolt's crowd with their noisy psychedelic rock and larger-than-life arena-rock performance style. Weird, wild, and fun, the members were all over and around the stage - and in the audience. It's impossible to imagine such a fate meeting this positive, physical, and very lively bunch.
For those who who don't know much about DMBQ, here's a hasty overview of the band and their prolific career: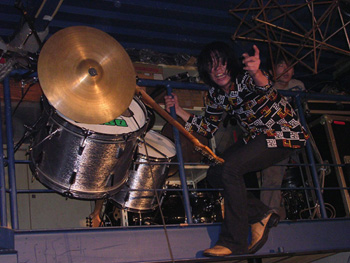 DMBQ was founded by acrobatic front-man Shinji Masukoin in Sapporo in 1988 . After moving to Tokyo in 1990, Masukoin proceeded to assemble an all-star group: guitarist Touru Matsui from Maria Kannon and Tatsuya Yoshida's of the Ruin's project Koenji Hyakkei, bassist Ryuichi Watanabe from UFO, and drummer Yuka Yoshimura from Yoshimi's of Boredoms' band OOIOO, Ringo Shiina's Hatsuiku Status, and Sugar Yoshinaga 's (Buffalo Daughter) Metaltics. Masuko and Yoshimura also had a side project called Hydro Guru. Mana "China" Nishiura, known for her work with acts such as Shonen Knife, Boredom's Rashinban, Music Start Against Young Assault, and Jesus Fever, came into the fold in 2004.
The initials "DMBQ" have no fixed meaning and the band has claimed the acronym stands for different things - depending on what year they are asked. Masukoin claims that "Dynamite Masters Blues Quartet," which lasted the longest, was picked because the name sounded like that of a "trifling blues band from the countryside."
While they can be stylistically defined as riff-driven psychedelic hard rock, DMBQ's music is also informed by a number of styles that range from heavy noise rock to free jazz to garage rock to various experimental sub-genres. The music is structured but has tendencies to drift deep into improvisation.
On Estrus Records and playing underground venues stateside, DMBQ are bono fide rock stars back home - performing at major festivals such as Fuji Rock and Summer Sonic and releasing their recordings on Parco/Columbia, and most recently, Japan's biggest label, Avex Trax. They have eleven albums to their credit in the last decade - including their most recent, this year's The Essential Sounds From The Far East. Their recorded work thus far has involved collaboration with Buffalo Daughter, EYE from the Boredoms, and a variety of other notable figures in underground music.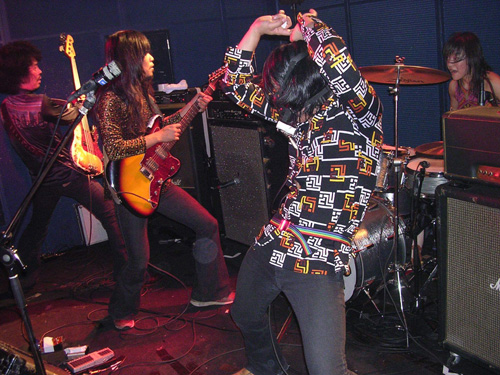 I wish I could find more to say right now - and I'm aware that this is one of those situations when words just won't cut it. The loss of Mana "China" Nishiura will certainly devastate not only the Japanese music community in general but the international music underground as well. As for the remainder of DMBQ, their condition remains uncertain. I will try to post more updates as they come in - as well as anything regarding benefits or other ways that you can help. In the meantime perhaps the best thing you can do is learn more about this important band and their music.
---
Please donate to help pay the medical and travel expenses for the surviving members of DMBQ and their tour manager Michelle Panache. Send PayPal donations to:
dmbqpanache@lovepumpunited.com
DMBQ's web site is here.
You can find China's personal web site here.
The news report about the accident from the Gloucester County Times is here.
Brooklyn promoter Todd P has already put on one benefit for the band's medical expenses. I'm sure there will be more. His web site is here.
NYNT's Mana "China" Nishiura obituary is here
NYNT's Mana "China" Nishiura discography here.
© New York Night Train , 2005