December 1 , 2005



Kid Congo Powers
Issue, Pt. 1
---
---
The Deadly Snakes
Mercury Lounge 12/07
Piano's 12/08
Maxwell's 12/10
***
The Germs
The Magik Markers
The Continental 12/10
***
No Neck Blues Band
Excepter
Pigeons
Syrup Room
---

The Germs
The Magik Markers
The Continental 12/10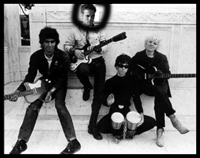 Though Darby Crash never got a chance to play New York, The Germs are playing their first two shows here Saturday night at the Continental. Doesn't it sound strange? "SATURDAY NIGHT - THE GERMS..." So now you have The Misfits without Danzig, The Dead Kennedys without Biafra – OK, I could go on forever and you certainly get the point – you've been getting it for over a decade now. But yeah - The Germs without Darby - they get points at least because their singer died while Danzig, Biafra, et al, are still out there with better things to do while others drag their band names through the mud.
So who is singing with these manimals on this, the twenty-fifth anniversary of the band's demise and Mr. Crash's death?
The stage and screen actor Shane West. You may remember him from his roles in ER and The League of Extraordinary Gentlemen. I have no idea who he is – but that doesn't mean anything as I don't have a TV (I know, that's sooo anti-establishment - I'm so passe) and I don't go to the movies much. The good news is that Mr. West plays Darby in the upcoming Germs bio-pic What We Do Is Secret.
Before I start to sound like even more of an ass than I already am, I have to admit that this could really could be something. I mean, if Darby were alive he'd be twenty-five years older. Of course, if Darby hadn't OD-ed he probably wouldn't be here anyway – but I dunno Iggy and Jerry Lee Lewis are still alive and rocking. And if he was still going, I envision him as still good-humored but fat and slow - and with three teeth - max. Since we all know that everything is improved upon via natural selection and technology, it's apparent that the new Darby will be a more efficient model than the old Darby. In fact, if we wait another couple of decades, that Darby should be superior to this Darby.
But I can't keep leading you on (I had you going, didn't I?). This Darby isn't better or worse than the original Darby because, are you ready, there never was an original Darby Crash. Like people who deny that the Holocaust happened, I'm just gonna put my foot down right now and declare the fact that Darby Crash never existed - he was invented by conspiratorial atheists. So this "extraordinary gentleman," Shane whateverhisnameis, is in fact the original Darby and if you don't believe me, see the movie.
But in all seriousness folks, sometimes an actor is the next best thing to the real thing. If they got a musician, he'd just be some… well… musician - putting his "ideas" and "self" into the music. But good actors have no selves, got me? They just let souls inhabit their vacant shells. And don't let some thespian tell you that actors project themselves into their roles - it's a crock - they're empty vessels, man. On is probably sucking your soul as I speak. And sometimes those "actors" are much better looking and physically able than the originals. Didn't you people see Ray – that dude could sing like Ray but he could also see… Jamie Fox is superior to Ray Charles! He doesn't need a cane. Or Cash. I haven't seen it but can tell ya that Johnny Cash was getting old and Joaquin Phoenix is in tip-top-shape. Hell, I even think Gary Busey'd still give the corpse of Buddy Holly a run for his money as Buddy Holly is a bunch of bones and dust by now (unless they're keeping him frozen for the future in the same meat locker as Ronald Reagan). So if this kid is one of these superior method actors and has been living in squalor, sedating himself properly,… if he's been making breakfast every morning exactly as in the Decline of Western Civilization kitchen scene and, most of all, if he refuses to sing in the mic – BRING HIM! It'll probably beat the hell out of what it would be like if they played merely as an instrumental trio.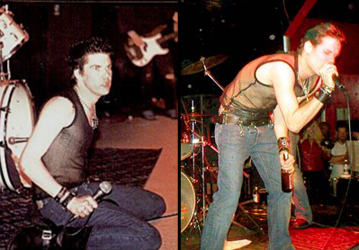 Who IS the real Darby?
Speaking of Pat Smear, Lorna Doom, and Don Bolles – c'mon! I don't know if I'd go see any band just for the reason that one of 'em was in it…but all together on the same stage? Where do I sign? Can I bring my camera? Can I throw may panties on the stage? (leave 'em Pat, they're for Lorna)
Because you are purchasing intimacy as well as history, it costs twenty-five dollars. But that's less than it costs to get your reunion on with X the night before with a couple thousand others. Plus, I'd take three-fourths of the Germs over all four original members of X any day.
Maybe they should get the recently reformed Black Flag and the eternal Fear in on the act and start filming Decline 3: Redux: 2005 - and have Viagra sponsor it....
Finally, and not insignificantly, Juliana Hatfield opens for X. 'Nuf said. The Magik Markers, who's racket on recordings has a lot more in common with the sound of a Germs live performance than a Germs recording, open up at Continental - and alone are reason enough to go.
© New York Night Train , 2005