No Neck Blues Band
Excepter
Pigeons
Syrup Room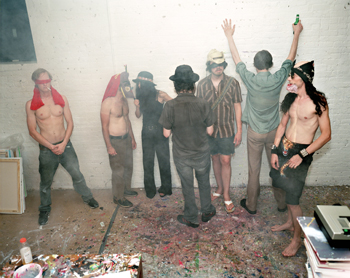 The show of the week from the more abstract end of the spectrum has got to be No Neck Blues Band / Excepter at a Todd P show at the Syrup Room in Bushwick. While both bands are experimental and Excepter's John Fell Ryan is a former member of No Neck, the similarities end there.
No Neck has been at it for over a decade – freaking out, upsetting Boat Basin Café patrons, giving record store clerks boners, recording their improvisations from their Harlem house, and releasing too many products to keep track of. Now that all kinds of esoteric improv is actually becoming a thing – with its own subculture and kids all over ready to gobble it up, it appears that the No Necks are finally getting their due. As they were an inspiration on a number of the more notable bands, they are the grand old men of an emerging "genre" – when people finally settle on a name for it. I personally think that any label involving no wave revisionism is completely off the mark and ignorant. There's not really enough folk focus to lump it in with freak-folk though some have the tendency to do so. Tribalism is too simplified and also erroneous. And it's certainly not jazz in a traditional sense. And all of the bands – Gang Gang Dance, Animal Collective, Excepter, etc., are a bit too distinctive to fit the same tag. Since I understand that experimental is a bit too broad of an umbrella, I suggest that we take a cue from the "new music" genre of the late 1970s that seemed to encapsulate everybody from The Residents to Throbbing Gristle and just call it "the new new music." But sense there's little humor there, and there must be some kind of joke in doing something as stupid as creating a catchword, I'll have to cast my vode for "the new eclectics" – only because it sounds as dumb as"new romantics"…
So as pioneers of the new eclecticism, No Neck have since early on employed structural, rhythmic, and harmonic incongruence, unusual instrumentation, and the art of randomness since early on. No Neck appeals to me more than some of the others out there because over time they have achieved a certain balance. The sounds are equal parts goofy and mystical – wavering between self-effacing, in a retardo sense, and mystical, in a self-important sense. Sometimes they give off that pretension you feel coming out of some avant-ensembles but it's offset by their playful humor. There's plenty of chaos to make it completely alive and enough order to make it interesting, artful, and considerate. Over time, they've become more organized and I mean all of this in the best of all ways. What I've heard so far of the new one, Qvaris, makes me think they continue on the same path – but are a bit more heavy and condensed. It appears that their time has come.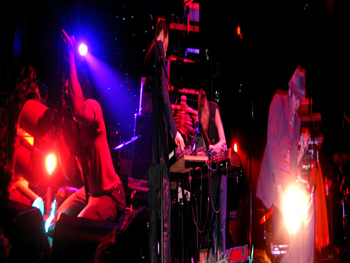 As for Excepter, John Fell Ryan and gang take a lot of these ideas of variation and improvisation and fuse them with an almost techno-oriented dance focus (the dance is a theme in both their music and their stage performance – particularly as other vocalist Caitlin Cook is a professional modern dancer/choreographer and incorporates her moves into their show). There's no shortage of synths, space-age samples, loops, club beats, and super-delayed dubby vocal sounds. There's also found sounds, feedback, dissonance, and a number of features that identify the noise genre. So if the difference between Excepter and the other new eclectics is elements from contemporary dance music, the difference between them and, say, !!!, or The Rapture, or other New Yorkers messing with dance music is in their loose deconstruction. In that regard they stand, or dance, between the place the disco Black Dice and the more recent industrial Black Dice – noisy, danceable, and abstract, but, as I indicated earlier – looser. Instead of keeping it round like other loose free-formers, they have a tendency towards linearity – together the members sound like they are on a quest for the common goal of both the disco DJ and improv musician – the peak. And, whether or not it's intentional, at points they succeed.
These descriptions of course don't do much to convey what either unique group sounds like. I hate the limitation of words as much as you do, but they're better than nothing. But if you're interested in checking out this music, they have done at least part of their duty.
Pigeons open.