Blood on the Wall
Psychic Ills
Morning Theft
Maxwell's
12/02

This is the kickoff date of the Blood on the Wall/Psychic Ills East Coast tour. In addition to the fact that they both record for New York's finest label, The Social Registry, the other common feature these two bands share is that they are two of the best things going. But that's where the similarities end.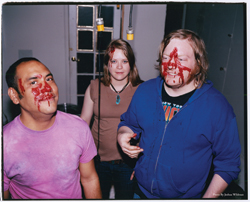 Williamsburg power trio Blood on the Wall consists of vintage clothing vending siblings Brad and Courtney Shanks from Lawrence, KS and drummer Miggy Littleton of White Magic fame. Their new stellar recording, Awesomer, chock full o'hits, is fairly faithful to their live show – sweaty and dynamic, yet comfortable. Taking lessons and bits from the best work of both their 1980s and 1990s indie rock predecessors and their 1970s rock godz, Blood on the Wall has come up with a sound of their own which I like to call, "Classic Indie Rock." Straightforward enough to rock out, daring enough to make it interesting, and passionate enough to lose control at the right points, Blood on the Wall has found a very real balance.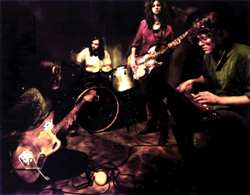 The Psychic Ills inhabit a different galaxy than Blood on the Wall – or for that matter, than you or anyone else. These Texas walk the tense line between formal and amorphous. Just when you think they're meandering, a sonic event will occur that will make the difference – proving you wrong and restoring your hope in improvisation in rock. So inside you will find some spacey rock, some fuzzy drone, some hypnotic south-Asian riffs, some electronics – but it's all really well integrated as a whole. But they are so intense live that you won't think of any of this – you will let go and feel the power.
Morning Theft opens.
Definitely worth the trip across a river or two…
© New York Night Train , 2005