Lucky Dragons
Telepathe
Growing
Sleepy Doug Shaw
Tonic
12/04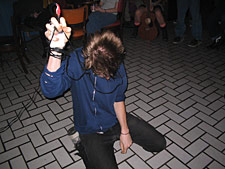 The Lucky Dragons are long-lived experimental project consisting of members scattered across assorted American urban centers – New York, Los Angeles, Philadelphia, and Providence to be exact. The abstract sound of the ensemble is a mix of cut-and-paste, organic and synthetic –inclusionary and difficult to place. In their dozen or so releases rely equally on computers, found sounds, and unusual instrumentation.
To label their live shows (or "actions") "high concept" would be an understatement. Most recently they've been working with "skin contact between performers as a means of transmitting and controlling data and creating a positive social environment." They've been using a rug in which they've woven circuits as a "touch controller." I have no idea if they will be working with the touch controller or some other research this time –attendance itself will be an experiment.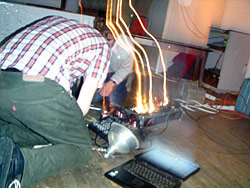 The other bands each deserve their own recommendations which will certainly come with time. But briefly, Telepathe, who have an EP on Social Registry, are one of the better new experimental bands on the block. Busy Gangnes & Melissa Livaudais compose intricate etherial and somewhat tribal soundscapes. They apparently have now expanded into a four-piece. Growing are a super-prolific droney two--piece currently on Megablade Records. And Sleepy Doug Shaw from White Magic is a foot-stomping blues-influenced one man band.
If you are into more adventurous music, this is your ticket.
© New York Night Train , 2005