NINTH WARD UNDERGROUND MARDI GRAS GUIDE

Here are some more places to go to hear Ninth Ward underground musicians during Mardi Gras. This is list is by no means complete - nor is it intended to be - merely recommendations from the musicians covered here - and commentary about whatever I may know. If you want to send me more, go to my contact page.


THU FEB 23rd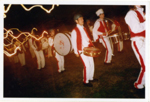 Muses Parade, 7pm*
You will find The Ninth Ward Marching Band in the uptown route of this year's
The Krewe of Muses Parade.
The Poots , Die Rotzz, Angry Angles, the Party Dotz - Circle Bar
FRI FEB 24th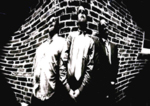 The Interlopers, the Bad Off vs Get your Led out - 9PM
Get there early to catch Lefty Paker's rockin' Rhinestone Records outfit, The Interlopers.
Morning 40 Federation Video Release Party w/MC Sweat Tea and the Tasty Hotz, and The Warlocks - 9pm $12
Ninth Ward favorites Morning 40 Federation celebrate the release of their new video. Lovely and taleted opener Sweet Tea is an Austin transplant who not only raps and puts on quite a show but also wears a number of other hats including filmmaker, actress, visual artist, performance artist, dancer, and drummer - and that's only off the top of my head. The Warlocks are indeed the oversized and overblown San Francisco psychedelic band.
SAT FEB 25th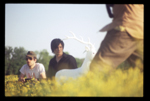 Viva L' American Death Ray Music w/ the Royal Pendletons - Circle Bar
New York Night Train Recordings' very own phenomenal Viva l'American Death Ray Music are coming all the way from their New York, Memphis, and Austin homes for the purpose of shaking the Circle. New Orleans surfy garage legends the Royal Pendletons should also echo throughout tha hood.
Ninth Ward Parade, 2PM*
Featuring The Ninth Ward Marching Band, The Ninth Ward Parade is, in the words of Quintron, "a short renagade style parade which will begin with a party at Bacchanal wine store on Poland and Chartres around noon. The parade will end at Mimi's bar on Franklin and Royal."
SUN FEB 26th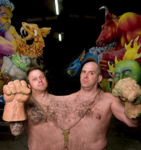 MC Trachiotomy & el Tonios Oned Eyed Jacks - 3AM
The Ninth Ward's charming, yet bizaar king of post-rap and pre-deevolution never fails to put on a show. Rumor is someone'll slip 'em the "Angel Dust" - maybe it'll be his new partner in crime el Tonios. Everybody knows what i know, unless you don't... Come freak out.
MC Trachiotomy & el Tonios - Circle Bar 8PM
The terrible two are at it again afrer only a few hours of sleep.
Mike Hurtt and his Haunted hearts Circle Bar 10PM

MON FEB 27th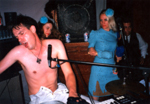 Quintron and Miss Pussycat, Peaches, and Twilight, with DJs Pasta and Bateman as Team Hardhat - One Eyed Jacks, 11pm, $15
What, I ask, would a Ninth Ward Mardi Gras be without the terrible two? Expect better living through technology, puppetry, and sweat. In addition to the Ninth Ward's biggest superstars, there's also the one-woman-party that the world knows as Peaches! And, as if that wasn't enough for one night, there's also Twilight - a brand-spankin' new New York supergroup featuring yours truly (doesn't get much more super than that - no shame), Nick from Viva l'American Death Ray Music , and Jay from Gogogo Airheart.
Proteus Parade, 5pm*
The Ninth Ward Marching Band is getting in on THE old-school New Orleans parade. Peaches is the band's celebrity grand marshall and will be throwing out her own special beads (don't ask what she uses 'em for).
Harlan T. Bobo w/ Timothy Prudhomme with the Luv Clowns - Circle Bar, 11PM
Mr. Harlan T. Bobo is indeed the Harlan from Viva l'American Death Ray Music (those boys get around). He's now a bono-fide solo act with an album that just came out on Goner Records. Also not to be missed.
Reincarnation Prayer, Japanther, and Madeline Adams, The Big Top, 1PM
Intense Vice Records' duo Japanther, also from New York, sneak into town for this early matinee.
*For info on the parades, their routes, and times go to either nola.com or Mardi Gras Unmasked.
Ninth Ward Underground feature home | New York Night Train home
© New York Night Train , 2006