Bukkah White
Aberdeen Mississippi Blues
Document 2006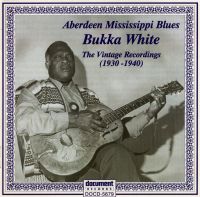 While there's nothing here that can't be found elsewhere, Aberdeen Mississippi Blues, featuring all of Bukka White's early output, is an ideal introduction to one of the roughest, toughest, and finest of the Mississippi bluesmen. Though the first four tracks here are from 1930, the period when Son House, Skip James, Charley Patton, and the rest were being recorded, the rest of the material here is from the next period of downhome blues recordings - 1937 to 1940. Two songs, "Pinebluff, Arkansas" and "Shake 'Em On Down" (his hit), are from a 1937 session with legendary Chicago producer Lester Melrose. Jumping bail for shooting a man to record the session, White returned to Mississippi to serve three years at the infamous Parchment Farm prison – where John and Alan Lomax recorded "Sic 'em Dogs On" and "Po Boy" in 1939. After White was released, he headed back up to Chicago to record the final dozen tracks here with Melrose in 1940. These twelve, which make up the bulk of this collection, are the bluesman's finest sides. White disappeared not long after this session, not to resurface until John Fahey and Ed Denson found him in 1963 - at the height of the folk-blues revival.
While you may not recognize White, his gruff voice, his forceful playing, or his overall emotive style, you are certain to be familiar with at least a few songs within. "Fixin' to Die Blues" appeared on Dylan's first album in 1961 and was later lovingly massacred by Railroad Jerk on Raise the Plow. You may recognize "Shake 'Em Down" from the Blues Explosion/RL Burnside LP Ass Pocket Full of Whiskey LP or Doo Rag's take – or if you know blues, maybe one Mississippi Fred McDowell's many signature versions – including the one you hear in Land Where the Blues Began. But don't get too excited about "Parchment Farm Blues" – this ain't the one Blue Cheer and Blues Magoos learned from the Brits (that's a Mose Allison song) – but White's "Parchment Farm" kicks Allison's ass hands down. As do all of these other cuts.
If you're only familiar with only a couple of White songs, or only 1960s revival stuff, or you haven't yet been introduced, Aberdeen Mississippi Blues, containing the absolute finest recordings of one of the best blues artist ever, is absolutely essential listening.
© New York Night Train , 2006