Magik Markers
GoGoGo Airheart
Metalux
Prurient / Thurston Moore collaboration
Electric Kulintang (Susie Ibarra, Roberto Rodriguez, and Thurston Moore)
Jessica Rylan
SPACE IN LIC
(SE Corner of Jackson Ave & Queens Blvd / 42-16 West St - 5th floor | Long Island City, Queens – take the 7 train to Queensboro Plaza, the E,V,G, or R to Queens Plaza, or, Williamsburgers take the B61 bus)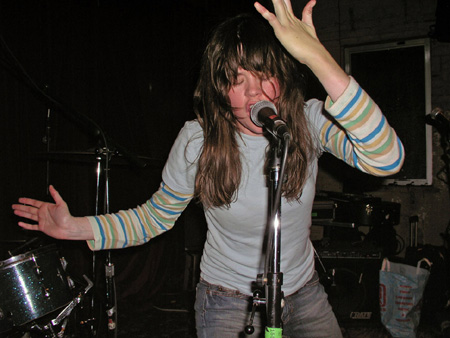 Magik Markers' Elisa Ambrogio by Steffano Giovanni
We once again have an experimental bill chock full o' notable artists. This one is put together by Swingset Magazine and will take place in a fifth-floor Long Island City loft. If there is a theme to the diversity of acts here – other than the fact that they all come from the experimental end of the spectrum, it's gotta be the Sonic Youth connection.
The night starts with artists from the more official side of experimental music spectrum and works its way to the indie.
Jessica Rylan, also known for her project Can't, is a Boston electronic musician who designs her own analogue synths. She performs and sets up sound installations at galleries, universities, and even events such as this. I can't yet determine her Sonic Youth connection.
Electric Kulintang, who tonight will be adding Thurston Moore into the fold, is the project of two percussionist/composers Susie Ibarra and Roberto Rodriguez. Kulintang is a Filipino musical style named after a percussion instrument which consists of eight gongs in a wooden tray. Ibarra, a jazz improvisor who has played with everyone from Cecil Taylor and William Parker to John Zorn, and Rodriguez, who has played with everyone from Marc Ribot to Celia Cruz to Julio Iglesias, navigate the waters of experimental jazz and funk as they loop and sample the kulintang and add percussion layers.
Prurient, who will also be joined by Moore, is Dominick Fernow. Fernow, whose music is probably the most challenging of the night, may also be the most intense performer of the evening. Prurient is pure violent screaming backed by artfully dynamic noise – expect to dance.
Metalux are a duo who used to be on Load records and have since moved further in further away from rhythm and into sound-collage – and cacophony.
While I'm sure that Gogogo Airheart have been the weirdest act on many a bill, tonight they are by far the most conventional. Not only the odd-man out musically, these veteran post-post punkers are also geographically removed from this east coast bunch. Their smart, structured songs are adorned with angular guitars and bouncy bass on top of dub, funk, and other dance rhythms. Expect to dance – and this time I say it without irony.

The headliners, if indeed there is a headliner on such a bill, are spazzy punkish no-wavey noise trio Magik Markers. Coming to the attention of the general indie public as the opener on a Sonic Youth tour last year, they also have a fairly recent record on Ecstatic Peace, Trust Your Guitar, etc.
I wish there was more of this when I lived in the hood - but then again, if there was, I probably never would have been able to afford it. Come early and expect no small amount of hearing loss later…
© New York Night Train , 2005