Whitehouse and Thurston Moore
Thursday, November 3rd
Rothko, Manhattan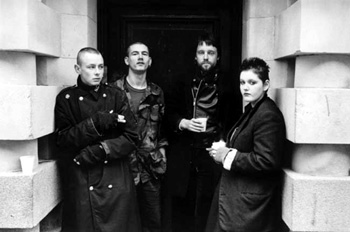 Whitehouse in 1983.
Formed by William Bennett of Essential Logic and Come, Whitehouse has been making their own brand of "power electronics" for over a quarter-century. Their fifteen or so LPs, including noise classics such as Erector, Right to Kill, and Great White Death, contain some of the heaviest, most violent, and overall antagonistic music to ever come out of a pair of synthesizers. Rhythmically amorphous, Whitehouse's loud sonic blasts contain intricate textures. Defined by speakerblowing bass tones, layered noise, and Bennett's distorted screams, they're still not dated - perhaps because Whitehouse informed so much of the noise that's still happening. After a long hiatus, the trio's stateside performances are super-rare. This is my first chance to see them as well - and, frankly...
It's gonna be loud and I can't wait.
Rookie guitarist Thurston Moore opens.
© New York Night Train , 2005