QUINTRON and MS PUSSYCAT
Saturday, November 12
Todd P Presents: &nbsp High Five Space
Sunday, November 13
Mercury Lounge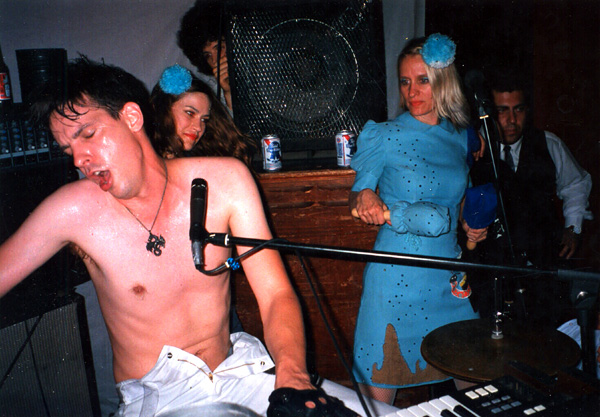 Quintron and Ms Pussycat at Rocky's Rockstar Bar this Summer. We see you hiding Oakley.
It's Qunitron and Ms. Pussycat time again!

For those of you who aren't already familiar, that means we have good reason to celebrate. Living legends, Quintron and Ms Pussycat have run two performance spaces, Pussycat Caverns and now the Spellcaster Lodge, led marching bands, and operated their own label, Rhinestone Records. But they are not only legendary for their central role in the New Orleans underground scene (AKA the Ninth Ward) - or heck, the international underground scene. Quintron and Ms. Pussycat have consistantly been one of the best music/performance acts out there for over a decade.
Quintron, alone and with Ms. Pussycat, has nine records under his belt from a variety of labels - including Bulb, Skin Graft, and, most recently, Tiger Beat. While his records are always totally unique, creative, and completely worthwhile, including the most recent CD/DVD Swamp Tech, the live shows are where it's at. Not only is Quintron approaching a certain virtuosity on the B3, but he incorporates a variety of the astounding electronic instruments into his show – all of which are his own creations – including his most famous contraption, the commercially available Drum Buddy, and the Mouth Man, a sort of electric kazoo. But don't let all this talk about home-made electronic instruments, virtuosity, and experimentation fool you – Quintron is no table-sitting bore. He's a natural showman – playing total get down organ, singing, schpeilinng, sweating, stripping, and working even the most frigid of rooms into a frenzy.
And then there's Ms. Pussycat… who is worth well over the price of admission alone. Percussionist, singer, and dancer in the show, she is also one of the world's foremost puppeteers. You can get a sampling with the puppet video "Electric Swamp" on their new Swamp Tech. Her performances are dark and twisted but with underlying humor and sweetness – and the puppets themselves are complete works of art. The shows are always different and often seasonal. Since it's still Halloween season, I wouldn't doubt it if you get a creepy one. If you're lucky you may even find a guest appearance from the puppet band Flossie and the Unicorns.
Quintron and Ms. Pussycat are one of the only live shows that I catch every time I get a chance. I've been seeing the duo, or Quintron alone, on a regular basis – opening for Crash Worship and doing parties at Pussycat Caverns in the mid-1990s, through tours to promote the Drum Buddy with Ninth Ward rapper extraordinaire MC Tracheotomy, and up to present shows which can best be described as relentless dance parties. And I haven't been bored for a second.
We have the good fortune to get two performances from the duo this weekend – Saturday, November 12 you can catch 'em at a Todd P show at the High Five Space with Aa aka BIG A little a, Rah Bras, and Hank IV. You can find the High Five at 538 Johnson Ave @ Varick Ave in "East Williamsburg" off the Morgan L train stop. On Sunday you can see 'em in the Lower East Side at the Mercury Lounge with An Albatross and Harry Merry. If I had to pick, I'd take the Brooklyn show because the duo are truly in their element in a party atmosphere…But you don't have to pick. And, if you go on Saturday, you'll probably find yourself at it again on Sunday.
See ya there.
© New York Night Train , 2005