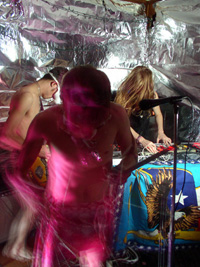 Psychic Ills
Electroputas
Indian Jewelry
Mazing Vids
Excepter
Cake Shop
11/04

Friday night's top-notch bill at the Cake Shop is jam-packed with bands that are not only all headliners in their own right, but from the more adventurous end of the spectrum.
For me the highlight is the two Texas expatriate bands – the Psychic Ills who relocated to New York and Indian Jewelry who moved to Los Angeles. Both have a completely contemporary almost avant-garde minimalist take on psychedelic music which renders both relatively difficult to describe. And despite lots of differences that there isn't room to go into here – are out to blow your mind. Additionally, take my word for it - two of the most interesting bands out there.
A few great equally eclectic experimental bands not from Texas are also on the bill. The no-wavy Electroputas feature longtime scenesters Joe Frivaldi and Jaiko Suzuki. It has been rumored that Suziki quickly became one of the best drummers in town via a pact with the devil. But you didn't hear it from me. Mazing Vids have been doing their thing for a few years – that being – keyboard torture, drum machine jamming, and post-punky guitar. Brooklyn's Excepter is also synth based, abstract, and groove-oriented.
Five great shows for the price of one. But get there early as I imagine that the crowd may be a bit more than the little basement of the Cake Shop can handle.
© New York Night Train , 2005