THE LATEST
THE TURPENTINE BROTHERS
Friday, November 4th
Ding Dong Lounge, Manhattan, 9PM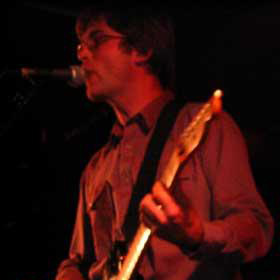 Bob Taylor of The Latest.
The sleeper pick of the week has got to be The Latest and The Turpentine Brothers way uptown at the Ding Dong Lounge. Time to Take The A-Train...
The Latest are a Texas super-group of sorts - in Chicago. Former-Hamicks frontman Bob Taylor, guitarist Killian Sweeney from De Schmog, and artist Keith Herzig are all from Texas. As for Mike Fitzpatrick from The White Outs (who were not from Texas but did contained Arman Mabry of The Fuck Emo's and Dave Head of The Motards), and Bill "CoCoComa" Roe, their origins remains mysterious.
What isn't mysterious is the fact that this bunch makes some great rock and roll. By no means as loud, fast, and dissonant as The Hamicks, the band is sort of Velvet-een, folksy, and straightforward - but has tendencies to go off in unusual directions. Furthermore, the inimitable voice of Taylor - still vibrato-crazy, but more full-bodied with age - when coupled with his fractured songcraft and his unusual stage presence, keep The Latest in weird outsider art territory. The Latest are, in the tradition of Moby Grape, Buffalo Springfield, and Love, a three guitar band. Taylor, Sweeney, and Herzig together do a fine job of treading the waters between utter cacophony and tender melody. This is their first trip to NYC.
The Turpentine Brothers are a Boston outfit that features Mr. Airplane drummer Tara McManus. A Boston R&B band with an organ, they may make you think of the Lyres, but have more to do with late-period Oblivians.
I have a sneaking suspicion that the Cabaret Law may get violated once again.
© New York Night Train , 2005