Vietnam/Tomorrow's Friend/TK Webb/Moon and Moon
Wednesday, October 26th
Northsix, Brooklyn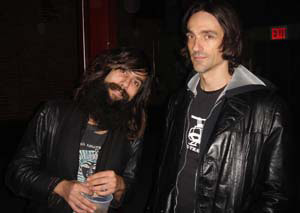 Mike from Vietnam and Bill from Grand Mal
We walked into Northsix around 10:30 with the cold October chill still lingering in our bones. Finding only a few other bodies peopling the cavernous space, we learned that because Moon and Moon's drummer had not yet materialized, the show was running even later than we were. But it worked out because we got their early enough to catch one of the harriestl local bills in recent history.
MOON AND MOON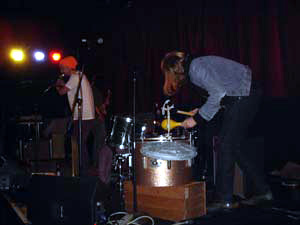 Drummerless, Will Lemon and Vietnam's Ivan Sunshine decided brave the big stage by themselves. Lemon paused, took a long breath, and soon the sustained wail of his trumpet echoed throughout the lonely room. Back turned away from the audience, Sunshine's heavy minimalist bass soon accompanied it with machine-like repetition. Before you know it Lemon was applying of layers of trumpet and flute and passing his Alan Vega-esque vocals through a deep delay. Driving relentlessly, Sunshine kept his eyes on the road as Lemon's soundscapes slowly unfolded the scenery. After a couple of songs Vietnam's Michael Patrick hopped out of the audience added his best Mo Tucker to the proceedings. And, in a moment true to the Cheech and Chong tradition, Moon and Moon's drummer Steven showed up to find that his band playing and took a confused stroll across the stage. He not only found his drumkit but that some other joker was playing it. Patrick jumped down. After an awkward start, Steven remained stone-faced as he employed a pair of maracas to beat the hell out of a snare and floor-tom.
When you see a couple of long haired hippy-looking dudes, one of which is wielding a flute, take the stage under the name Moon and Moon, you expect the band's aesthetics to have more in common with that of the Grateful Dead than Suicide. But the definition of classic rock has expanded to all kinds of territories in recent years and the joke is on you. This is the third time that I've seen Moon and Moon in the last year and a half and, as the group has pared down their membership and narrowed their focus, I've also progressed - from barely bearing them to becoming a firm advocate. Check 'em out.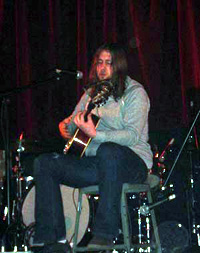 TK WEBB
Not one to be stingy with his significant talent, TK Webb seems to play every few nights on some bill or another in Williamsburg or the Lower East Side. Forever late, I generally miss him. Tonight I got a heaping help of Webb from start to finish. TK's set, all acoustic, was also a battle of sorts with the loud band playing downstairs. This time TK won - singing, playing guitar and harmonica, and keeping a forceful beat with his boot in the finest American one-man band tradition. Not your run-of-the-mill folk-bluesman, TK mixes it up and puts a lot of himself into the music. While I located bits and pieces belonging to the Delta, Piedmont, and Southwestern blues styles in his vast guitar technique, a hint of Appalachia also lingered throughout. Singing in an equally unique and nuanced warm gravel voice, his songs are solid and, from ballads to stompers, also show no small amount of variation. The standout moment in TK Webb's set was the last number during which he began hammering and hammering at an alternating hypnotic blues riff until he finally crossed to the other side – taking the room with him and leaving us in trance.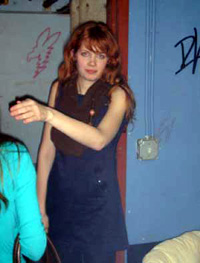 TOMORROW'S FRIEND
After TK we ended up having a quick drink backstage as Tomorrow's Friend took the stage. By the time I tore myself away, I got upstairs just in time to hear the last few measures of a song before Allessandra offered an abrupt "thank you – goodnight" and the band began tearing down. Known for their substantial sets, Tomorrow's Friend apparently played such a short one this time due to a recent line-up change. Next time…
VIETNAM
Vietnam started tuning up and bodies began filing towards the front of the room. For those of you who haven't seen Vietnam for some time, they've become a sight to behold. It's primarily the hair – they all grew it out super-long. There are three beards in the band plus the lone moustache of guitarist Joshua Garrett. Enigmatic vocalist/guitarist Michael William's fantastic facial hair deserves special notice as it is beginning to approach ZZ Top proportions. Think Spahn Ranch.
But I didn't come here to talk about hair… I also want to talk about clothes. But I will save it for the next review.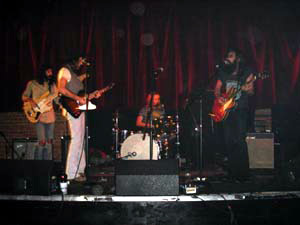 Vietnam's appearance isn't the only thing that has changed. Starting out a few years ago as a loud and spacey electric guitar duo in New York, they ballooned into a full six-piece band in Texas, came back to New York and began performing as a duo again, moved to Philadelphia where they were hated, wound up in New York again, added drummer Michael Patrick, hastily recorded an EP for Vice, got lost in the sticks of Pennsylvania, spent months on tour, and found themselves in New York once more – this time bringing the Ghost Exit's bass wizard Ivan Sunshine to the fold. Though Michael William will tell you it was all Street Hassle, the sound of the early duo and trio had its roots in Jesus and the Mary Chain and Spaceman 3 and its offshoots. As the boys gradually developed their own musical identity, the sound grew into another animal entirely – something beyond any other categorization than rock and roll yet completely their own. When people ask me to describe them I'm always at a loss – if early Skynyrd recorded the Velvet Underground's Loaded? A Jonathan Fire*Eater ballad played by The Band? What's the use? All you really need to know is that Vietnam is one of the best band's going. If you don't believe me ask their crowd – which on Wednesday was comprised primarily of Williamsburg's finest and most happening bands.
After tuning up, they broke into the first song. From that point on they were unstoppable for the remainder of their brief powerful set. Wrinkling his brow, strumming with clinched fingers, sweating, whispering, and screaming in his Dylanesque drawl, vocalist/guitarist Michael William gave every ounce of himself. At a couple of points it looked as if the microphone would disappear into the unknown depths of his beard. Joshua Garrett's bendy expressive leads added an extra instrumental melodic touch - drawing a subtle variation of lines all over William's epics. There are even a few sublime William/Garrett duo guitar moments. Facing the audience this time, secret weapon Ivan Sunshine's subtle contributions included soul, precision, and a bouncy bottom. And the Cinderella story of the band, Michael Patrick, who joined two years ago with no drum experience whatsoever, proved that the last year of touring has transformed him into a drummer of power and finesse.
While rocking their hearts out, Vietnam are the ultimate team players. And the songs are now king. No member does too much or too little. The music has become even more condensed, dynamic, and harmonically sophisticated since the band came back from working on their debut album in Los Angeles a couple of months ago. So now Vietnam has become more than a band and a family – they are a cult. But all you would-be Sharon Tates out there need not worry – these hairy Brooklynites are a cult of song

© New York Night Train , 2005