EVACUATION
NEW ORLEANS MUSICIANS REMEMBER GETTING OUT OF DODGE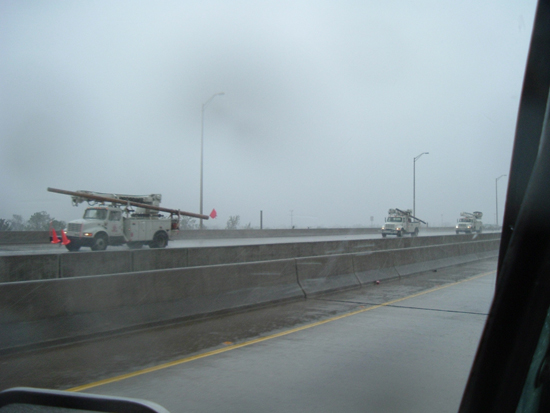 E.P.: When the hurricane hit my then wife and I left for Alabama until I found some work in LA and went out west. We made it to LA and our dog died on my birthday. My wife became pen pals with a friend in prison and stayed pretty much drunk (just after getting out of rehab) and became pretty miserable. Well she went to visit family and found her prison pal out of jail. So when she came back to LA she and I called it quits and she took 800 dollars, the truck, and left me with the animals. After 7 years of being together, that was that. The prison guy is facing ten to twenty years.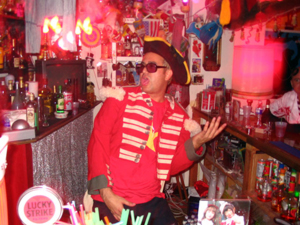 Larry Lamborghini
John Henry: We stayed in a Motel 6 for a few days spending our days visiting friends we know there and spending our nights watching our town be destroyed on CNN. This part was the most frustrating because we realized that we were not just spending a few days out of town and then heading back to clean up some branches in the yard, we were stranded. After we heard the news that they would not allow us to return for at least a few weeks we not only knew it was a very bad situation but that we needed to go somewhere for a while to either work or get other resources because our money would run out just hanging in Memphis.
This situation led us to our current destination - Los Angeles. We received a phone call from our friend Larry Lamborghini, a New Orleans native and old friend who moved to LA years before. He offered his help finding work and a place to stay for as long as we wanted. I had never been to this part of the country and thought it would be a great change for a while until we could figure out what was next.
Kid Twist: We went to my mom's house and the day after the storm hit we woke to the news that everything looked mostly OK at home, except some low-key, unconfirmed reports of a levee breach…or two. As we began to pack the news grew more grim, along with the pictures on TV...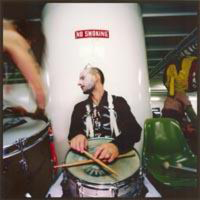 We packed up the van with our new equipment, our friend Walt, with whom we perform in another band called Crooks and Nannies, and headed for our first show in Austin, TX. We played at The Carousel to a dream audience (for me, at any rate). All of my friends and family from Austin came, plus all of my recently evacuated friends from New Orleans, plus a healthy dose of people who know us from Myspace or whatever. Our songs are full of images related to water, drowning, catastrophe and loss, and they felt more relevant than ever. The Carousel let us drag on a little late and people outside were sitting on the curb, drinking and smoking like Austin's notoriously strident liquor and drug laws never existed. We left the next day for Phoenix and points further west, having revamped our press emails to include the fact that we were essentially, and quite likely literally, homeless. Throughout the tour this gave us the kind of publicity and support a first-time-out-west touring band rarely receives.
We played with bands like Reindeer/Tiger Team in Phoenix that gave us all the show money, plus whatever they made from merchandise. We played in a little restaurant called Café Adrift in Anacortes, Washington (the best food on the west coast, no shit) that not only paid us, but turned the show into a benefit, gave us the door money, and donated the profits from the food sold to the relief organization of our choice. But more than all of this, audiences sincerely and emotionally absorbed our music, often drunkenly dancing and even more drunkenly mourning with us.
MC Trachiotomy: We headed for Baton rogue as planned. 3 dogs, 1 cat, 5 people 1with a bun in the oven, and their stuff, in a limping at best, pick up truck. Strangebone was not with us.
Lefty Parker: I got out of New Orleans Thursday following, and aside from almost getting killed at a riot at a gas station in Westwego it was pretty easy. I'm still pissed that people think that it was hard to get out, or that it was hard to get in. it wasn't, at least along the river...Baton Rouge first, it was easy to see that there was not a place to stay. It was ridiculously crowded, and we had 7 animals with us. My Cell phone magically started working, and I got a hold of my friend Luke Allen of the Happy talk band (www.happytalkband.com) who had left before the hurricane, and had gotten a job at a club called the blue moon, and already had gigs. We stayed with Luke at his friends house for 2 days, got showers and decided that we didn't want to piggyback on Luke. I called my friend and former New Orleans musician Mara Buffett (niece of Jimmy) who offered us a place in Fairhope Al. We didn't want to be far from home, and Mara found us jobs doing construction, besides the animals were welcome there... I didn't play any gigs in Alabama, but we did go to a show, met a lot of musicians from Mobile and did drugs with them. Mara gave me a new guitar that had belonged to a friend of ours thst died last year, and free rent for almost 2 months. Mara is Awesome, and I said that before the storm..
Continue to read about Ratty Scurvics' months in exile
Ninth Ward Underground Oral History home | Ninth Ward Underground feature home
New York Night Train home
© New York Night Train , 2006