DIGGING IN
LEFTY PARKER REMEMBERS HIS STAY IN NEW ORLEANS DURING KATRINA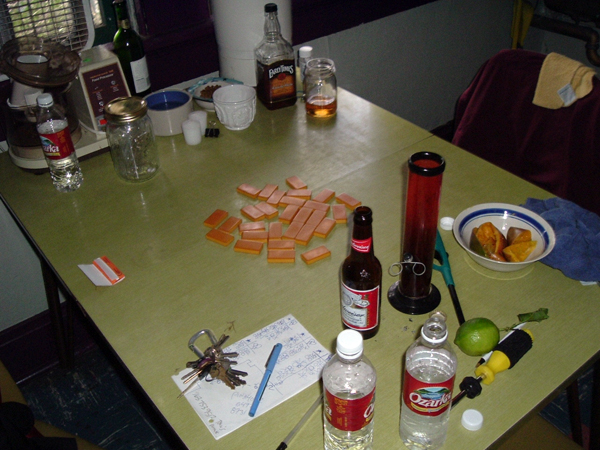 Go here for Lefty Parker's bio.
It was generally the most horrifying experience ever, I mean, the fucking cops were just another fucking street gang, not that I trust them in general, but you had no idea who to trust. Gun shots (every 10 minutes) and low flying helicopters punctuated with screaming were the soundtrack to the nights and the days were long and HOT!!!.On Monday it was fun to walk around and see some of the general destruction, because it wasn't that bad. We did see minor looting at the time, but we also saw the National Guard driving by so I figured they would soon put a stop to that.(wrong, I later found out that, although they were driving by, they had orders to not get off the trucks).
On Tuesday we decided to go look for Antoinette K- Doe (the widow of R and B legend Ernie K- doe and my adopted Mother). Having heard about the levee breach on the radio, and on the phone*, I was worried for her (rightfully so, she didn't get out for weeks), but we quickly realized that we couldn't get there. Not because of the Water, I would have waded the water. No. It was the goddamned cops they had fucking rubber bullet guns and were "holding" the french quarter**. The bastards were on the corner of every block of canal, guns drawn, screaming their heads off at everyone not in a badge, they pointed at my friend Aimee and I and told us to "move along." It was the best route to the Mother in Law Lounge, but I thought we'd find another. We tried to get over there through Esplanade, but it was really a much longer walk.
So we made it to Elysian Fields, where we walked towards Quintron and Miss Pussycats home (the Spellcaster Lodge). We ran into my friend Mikey (the Mysterious rea Ranger), and he told us not to go down to St. Claude because they (?) were mugging people in broad daylight.*** So we decided to go look for Jay (MC Trachiotomy) and Jeff (Strangebone). We caught up with Jay and a slew of other local musicians at Robert's (pronounced in Frech). Someone had opened it up. I think it was a security guard, he had a uniform on but who could be sure? Jay was with Jayme (Black Caar) and Daniel (his housemate and local artist who painted the Mother In Law murals). They extended an invitation to us to go to their complex (his house, The Pearl) - and that El Tonio, his wife Jesse, Baby, Jayme's wife Raven and her sister (the actress who played the Frosh in Dazed and Confused) were there. I still wanted to make it to the Mother In Law, and discussed getting there with the others, but it didn't seem possible. Cops were blocking other areas now and the water was sort of higher. It was getting dark, so it was time to get home. The bar had been broken into when we returned and I talked to Heidi Ochs, a Local clarinetist (and Ninth Ward Marching Band member), who lives upstairs. She said she heard something, came downstairs, and boarded up the window that had been broken. Aimee and I played dominos in the dark and drank heavily till we each passed out. It was soooo fucking hot, that was literally the only way to get to sleep. Besides, the helicopters'd just wake us up in a few hours anyway.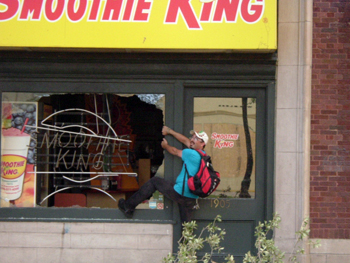 On Wednesday we woke and realized no one was coming, and things were getting worse. We had been seen transporting ice from the bar to my girlfriend's house on Monday, but by Wednesday people were more aggressive and I had a feeling that if this kept up we were gonna get killed for ice. By this point every major chain store had been "opened up" and there probably wasn't anything to be found in any of them anyhow, the people had become lawnmowers of destruction, far worse than Katrina herself. Most of the poor Black folks had formed traveling tribes, with the grannies carrying the babies, and the Gramps pushing the loot (as far as i could see, electronics, shoes, poptarts and chips) in grocery carts while the younger more tough kids walked in front and behind, maybe breaking away to loot something attractive along the way****. We also saw a lot of armed street gangs, and started to hear murmurs of discontent among the people we saw, it seems that way too many white people had been fucking with too many black people and the black people weren't going to take it anymore. It seems valid, but I was pretty sure that this was the kind of thought process that spawned riots...
So we secured the Circle Bar, making it look looted already and we put up signs saying "owner lives in building." These tactics were only designed to keep people away from the bar, at a distance. The true deterrent was the fact that 3 or 4 of the old crusty guys who lived next door (in state supported housing that they were evicted from on Wednesday following the hurricane for no good reason) intended to stay. So I gave them whiskey, lots of it. Thursday, we woke up and said, "let's get the fuck out of here." By this point, fires were erupting all over the city, and still no responders. I say no responders, but the power company and Bell South were everywhere, It made me wonder what the fuck is up with the government. I mean where the fuck are they? As we made our tearful caravan out of the city (me with the 4 cat's living in my girlfriends building, Aimee with the 3 dogs) people pawed at the cars. I wanted to stop, I know Aimee wanted to stop, but, in the wake of the violence and desperation we'd seen, there was no way to know if you let someone in, that you'd still be in control of your own car, or even in it.
As we got to the other side of the Crescent city connection, we saw wildlife and fisheries coming in, and the rest of the government and Red Cross sitting on the other side. Waiting. Waiting for what? Mother Fuckers, waiting for WHAT!!! PEOPLE ARE FUCKING DYING IN THERE!!! And all they had to do was drive over a bridge.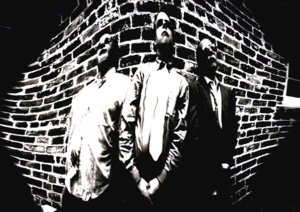 Lefty's band - The Interlopers
LEFTY'S NOTES:
*By the way, the Phones worked fine until Wednesday night, It is my belief that they were cut off purposefully, the phones that I did a BBC interview from (the bar's, and my girlfriend's) were both cut off after those interviews. Indepently of each other and about 30 minutes after, other phones in the neighbor hood worked 'til Thursday, including all of the other neighbors.
** I heard the term "holding the French Quarter" later. The mother fuckers just holed up in the A and P grocery on royal and fanned out for blocks to protect their investment. I saw cops in those Cadillacs that were looted. I also saw them siphoning gas into those cars. The French quarter was fine by itself, the cops should have been in the trouble spots (convention center/superdome).
*** You Have to first realize that New Orleans had a rough summer. August was about as bad as it gets crimewise and these people were in shock. Crime is what they know, it's easy and it creates dominance, ...a sense of order, of a sort...
**** I'm told now that the looting was just for food, and that those people needed food. Bullshit! There was looting of food, but I personally saw a lot more looting of high-end electronics, as far as people needing the food, I doubt it. There was a sense that if you didn't get some now, you'd never get some. Never? That's the word that describes the desperation of a city that was left stranded. We all knew it. After four days in the August heat with no power, and the only authority figures were acting like wild dogs, it actually seemed as though we'd never be the same. What I mean to say by this is that, at the time, it felt as though this is the way we were going to have to live now. Call it mass hysteria, but it was palpable. At any rate, I don't think those people would have been able to live very long on chips and snack cakes, but honestly I understand the mentality. P.S. Coca-Cola was the only thing left in the gas stations, apparently everything doesn't "go" with Coke and a smile.
Continue to MC Trachiotomy's account of remaining in New Orleans during Katrina
Ninth Ward Underground Oral History home | Ninth Ward Underground feature home
New York Night Train home
© New York Night Train , 2006